The Border Project
Victoria Sambunaris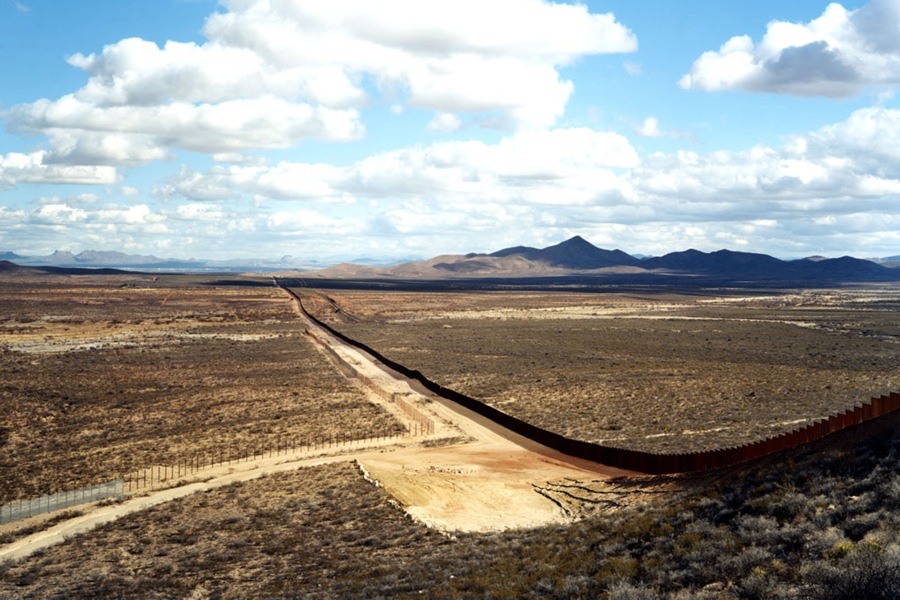 The US/Mexico border spans approximately 2000 miles from the Gulf of Mexico to the Pacific Ocean. This southern border weaves its way through diverse terrains and waterways: rivers, mountains, valleys, grasslands, refuges, reservoirs, reservations, parks, forest, canyons, deserts, dunes, ranches, towns, and farms. The extreme physical diversity of the landscape along the border fluctuates between dense urban sprawl compressed along the dividing fence where one can practically see into a person's home across the border to remote uncultivated desert areas with ancient geological formations where one may not see a soul for days.
An imposing physical barrier creates the division between the two countries. The adjacent landscape on the US side is stripped away to accommodate access for Border Patrol and other federal law enforcement agents. From afar, it appears to resemble an extended landing strip or perhaps an environmental art piece. But at ground level, the conspicuous steel fence is a physical reality.
In October of 2009, I departed from New York venturing south to the border area. My initial intent was to arrive at Big Bend National Park, a place of biological diversity and 500 million years of geologic history, to begin my exploration of the border landscape. My assumption that Big Bend was a haven and absent of political implications was proven wrong when it was revealed that since September 11, this area of the border was closed. No longer could one take a small boat across the river to visit the towns of Boquillas or Santa Elena, Mexico to convene with the locals and sample local cuisine. My encounter with the locals shifted my preconceived conceptual notions to a reified construct and the political limitations of access that I would encounter were initially revealed.
The thalweg or deepest channel of the Rio Grande forms the international border and that boundary is enforced to the detriment of the local people who once thrived on tourism. Regardless, I had the opportunity to speak to the Mexican locals who ignored the restrictions and ventured across to sing traditional ranchera tunes or place their handmade crafts for sale to tourists.
back to top ↑