About Making the Geologic Now
The Book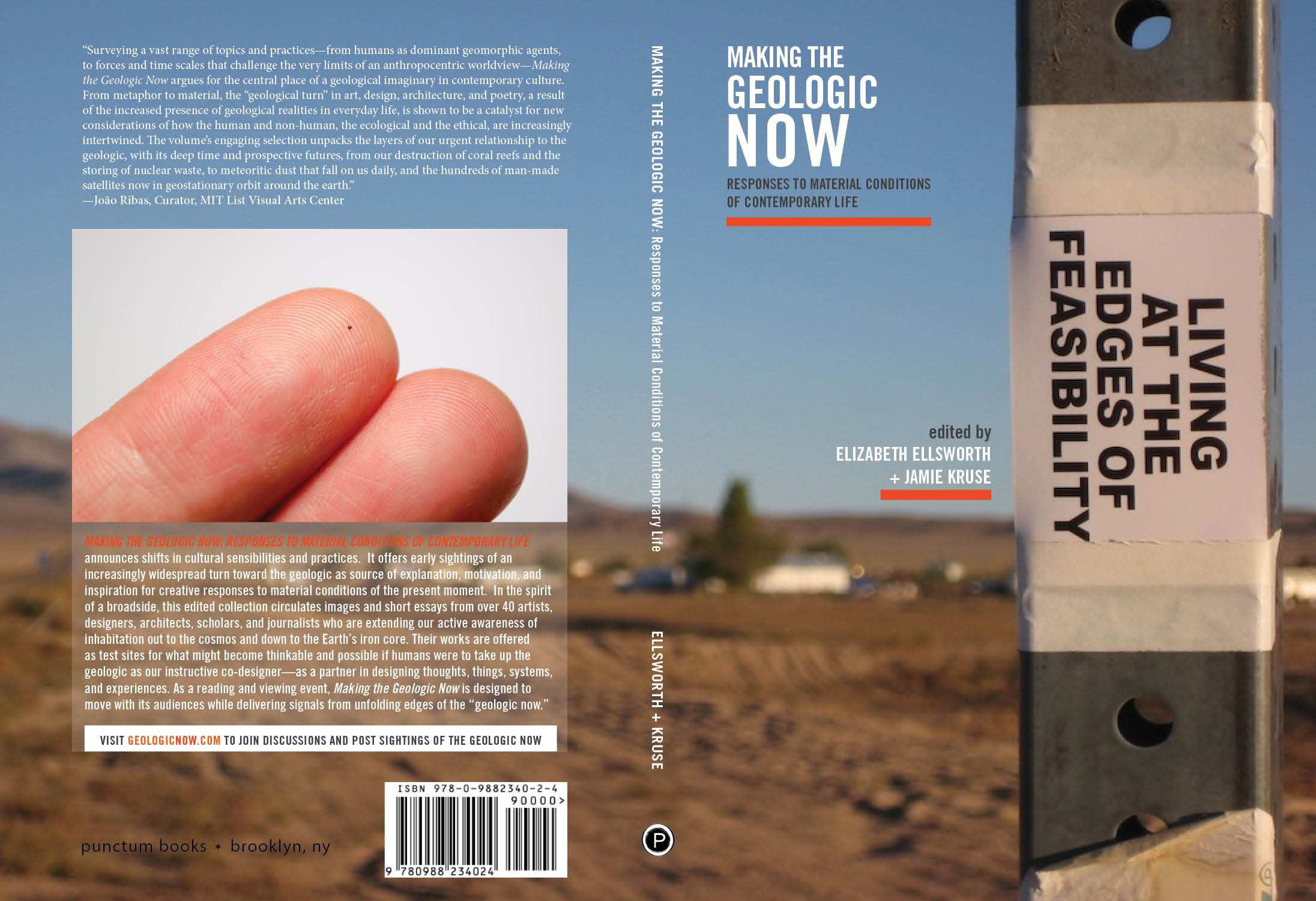 Making the Geologic Now: Responses to Material Conditions of Contemporary Life announces shifts in cultural sensibilities and practices.  It offers early sightings of an increasingly widespread turn toward the geologic as source of explanation, motivation, and inspiration for creative responses to material conditions of the present moment.  In the spirit of a broadside, this edited collection circulates images and short essays from over 40 artists, designers, architects, scholars, and journalists who are extending our active awareness of inhabitation out to the cosmos and down to the Earth's iron core. Their works are offered as test sites for what might become thinkable and possible if humans were to take up the geologic as our instructive co-designer—as a partner in designing thoughts, things, systems, and experiences. As a reading and viewing event, Making the Geologic Now is designed to move with its audiences while delivering signals from unfolding edges of the "geologic now."
The Website
The Making the Geologic Now website is a creative translation of the book into an interactive website. Readers can update and extend the book by uploading and illustrating their own sightings of "the geologic now." Readers can also join in discussions of articles and images in the book or on the website.
Biographies
Editors:
Elizabeth Ellsworth
is Professor of Media Studies at the New School, New York, and co-founder with Jamie Kruse of smudge studio, a nonprofit media arts and design collaboration. Her research and teaching focus on pedagogy as an expanded cultural practice capable of fostering new ways of thinking and knowing. In particular, she works with the idea that learning is an emergent phenomenon whose potentiality emanates from the disposition of things, processes, and people in pedagogical designs. She recently served as Associate Provost for Curriculum and Learning at The New School, and is author of Places of Learning: Media, Architecture, Pedagogy (Routledge, 2004) and Teaching Positions: Difference, Pedagogy and the Power of Address (Teachers College Press, 1997). Her recent journal articles focus on projects that fuse learning with aesthetic experience, and public pedagogy. Elizabeth earned her PhD in Communication Arts from the University of Wisconsin-Madison.
Jamie Kruse
is an artist, designer and independent scholar. In 2006 she co-founded smudge, with Elizabeth Ellsworth, based in Brooklyn. She is the recipient of grants from the Graham Foundation for Advanced Studies in the Fine Arts; The New School Green Fund; New York State Council for the Arts and the Brooklyn Arts Council. Exhibitions include the Sheila C. Johnson Design Center; the Storefront for Art and Architecture; the Massachusetts Institute of Technology; Incident Report; and Richland Galleries. She has presented her work at Parsons, The New School of Design; the A. Alfred Taubman College of Architecture & Urban Planning, University of Michigan; the Center for Land Use Interpretation Los Angeles; the Oslo School of Architecture and Design; Thyssen-Bornemisza Museum, Madrid; and the California College of Arts. She is the author of Friends of the Pleistocene, fopnews.wordpress.com.
Designers:
Web Designer:
Alli Crandell
Print Designers:
Reg Beatty + Jamie Kruse
Contributors:
Matt Baker
is an artist working in public space in Scotland. His work is highly specific to its location and often also intricately woven into a social context. He was awarded the Saltire Society Award for Art in Architecture in 2011 for projects completed in Scotland between 2009-11. For the last 13 years Baker has been placing experimental installations in the landscape of South West Scotland.
Jarrod Beck
is an artist with a background in architecture living and working in Brooklyn, NY. He has created installations for the Lower Manhattan Cultural Council (NY), Lawndale Art Center (TX), MASS Projects (TX), Backroom (Madrid, Spain), Generator Projects (NM), and the Instituto Cervantes (NY). In 2010, he began a permanent ground drawing on 5 acres near Terlingua Texas. He has been a resident artist at the Lower East Side Printshop, Frank Lloyd Wright School of Architecture, Robert Blackburn Printmaking Workshop, Fine Arts Work Center and Socrates Sculpture Park. Beck's drawings are included in the Judith Rothschild collection of contemporary drawings at the Museum of Modern Art, New York. He earned an MFA from the University of Texas at Austin and a Master of Architecture degree from Tulane University.
Stephen Becker
is a development consultant and unlicensed architect in Massachusetts. He is co-founder of mammoth, an architectural research and design collaborative, and a founding member of the ExEx. His work has been published in various magazines and journals including Bracket, MONU, and Crit.
Brooke Belisle
received a master's degree from NYU's Interactive Telecommunications Program and a PhD from UC Berkeley in Rhetoric, Film, and New Media. Her research and teaching connects contemporary media art with ideas and formats from earlier moments in visual culture. She is currently writing on photographers, filmmakers, and digital artists whose work invokes the panoramic, the stereoscopic, and the history of astronomical imaging.
Jane Bennett
is professor of political theory at Johns Hopkins University. Her latest book is Vibrant Matter: A Political Ecology of Things (Duke University Press, 2010). She is also the author of The Enchantment of Modern Life and Thoreau's Nature: Ethics, Politics, and the Wild. She is currently working on a study of Walt Whitman's materialism.
David Benque
Is a designer and researcher working in London, UK. He holds an MA from the Design Interactions department at the Royal College of Art and a BA in graphic and typographic design from the Royal Academy of Arts in the Hague, Netherlands.
The Canary Project/ Susannah Sayler and Edward Morris
Susannah Sayler and Edward Morris work with photography, video, writing and installation. Of primary concern are contemporary efforts to develop ecological consciousness and the possibilities for art within a social activist praxis. In 2006 they co-founded The Canary Project - a collaborative that produces visual media and artworks that deepen public understanding of climate change.
The Center for Land Use Interpretation
is an educational organization established in 1994 to increase and diffuse information about how the nation's landscape is apportioned, utilized, and perceived, and to help people become more aware of the physical characteristics and cultural significance of the shared landscape of the nation.
Brian Davis
studied landscape architecture in North Carolina and Virginia and has practiced in Raleigh, Buenos Aires and New York City. He writes the landscape blog faslanyc and contributes to design journals focusing on projects and ideas related to landscapes of Latin America, New York City, and Appalachia. He is also a founding member of the ExEx research collaborative.
Seth Denizen
works as a landscape architect and researcher at the University of Hong Kong.  He graduated in 2007 from McGill University where he studied the Pliocene evolutionary biology of the Panamanian Isthmus.  His work in art and architecture has engaged with the aesthetics of scientific representation, madness and public parks, legal geomorphology, and the political economy of construction waste.
Anthony Easton
is interested in western culture, (dis)embodied theology, disability studies, and vernacular forms; he's shown in galleries, libraries, churches, bathhouses, and an accounting office in Poughkepsie. One of his artist books is in the library of the National Gallery of Canada, one of his essays has been anthologized by Routledge.
Valeria Federighi
is a licensed architect. She holds a MArch from the Politecnico di Torino, with a thesis on incremental design in the slum of Dharavi, Mumbai; and a MS in Design Research from University of Michigan with a research on the photographic practice of Ruin Porn and its reflection in the morphology of Detroit. Valeria's work experience includes internships at AndersonAndersonArchitecture, San Francisco; URBZ, Mumbai; and Isolarchitetti, Torino.
William L. Fox
Director of the Center for Art + Environment at the Nevada Museum of Art, is an art critic, science writer, and cultural geographer. He is a fellow of the Royal Geographical Society and recipient of fellowships from the Guggenheim Foundation, National Endowment for the Humanities, and National Science Foundation.
David Gersten
is an architect, writer and educator based in New York City. He is a Professor in the Irwin S. Chanin School of Architecture at the Cooper Union, where he holds the Feltman Chair and has served as Associate Dean under Dean John Hejduk as well as Acting Dean of the School of Architecture. He has been a visiting professor, taught workshops and lectured in universities throughout Europe and the Americas. His drawings and stories have appeared in international exhibitions, and are held in the collection of the Canadian Center for Architecture, the NYC Public Library' print collection and numerous private collections.
Bill Gilbert
has served on the faculty in the Department of Art and Art History at the University of New Mexico since 1988 where he holds the Lannan Endowed Chair as founder of the original Land Arts of the American West program. Gilbert is also the co-founder with Basia Irland of the new Art & Ecology emphasis in studio art and has recently been appointed as Acting Dean of the College of Fine Arts.
Oliver Goodhall
holds a MA from the Royal College of Art in Design Interactions, having previously graduated from the Bartlett School of Architecture in 2005, and co-founded the architecture practice We Made That. He is interested in developing projects that expand engagement between strategic thinking and creative practice in the public realm.
John Gordon
is Earth Science Policy & Advice Manager with Scottish Natural Heritage in
Edinburgh, and an Honorary Professor in the School of Geography and Geosciences at St Andrews University. He is also a glacial geologist and has written extensively about the landforms and glacial history of Scotland, as well many other areas of the world, including the Arctic and the Antarctic. In 2003, he was co-leader of the Royal Scottish Geographical Society's Scotia Centenary Expedition to South Georgia in the Antarctic.
John has also lectured and published academic and popular articles on how the creative influence of geodiversity, expressed through literature, poetry, art and the development of 'Romantic' tourism in Scotland, allows a broader interdisciplinary exploration of the cultural engagement with landscape and the deep connections between people and the natural world.
Ilana Halperin
is an artist, originally from New York, and currently based in Glasgow, Scotland. She has a deep love of geology and shares her birthday with the Eldfell volcano in Iceland. Her work explores the relationship between geological phenomena and daily life.
Lisa Hirmer
is an artist, designer and writer. She has a Bachelors of Architectural Studies (2005) and a Masters of Architecture (2009) from the University of Waterloo and is a founding principal (along with Andrew Hunter) of DodoLab, an experimental program that researches, engages and responds to contemporary community challenges, with a particular focus on the natural world, social systems, the built environment and cities in transition. She is based in Guelph, Ontario, Canada.
Rob Holmes
lives, teaches, and practices as a landscape architect in Virginia. He is co-founder
of mammoth, an architectural research and design collaborative, and a founding member of both the ExEx and the Dredge Research Collaborative. His work has been published in various magazines and journals including Bracket, Urban Design Review, Landscape Architecture, MONU, and Crit.
Katie Holten
grew up in rural Ireland and lives in New York City. Her work explores the relationship between human beings and the environment. At the root of her practice is a curiosity about life's systems - both organic and man-made. In 2003 she represented Ireland at the Venice Biennale and in 2009 created Tree Museum, a public artwork celebrating the centennial of the Grand Concourse in the Bronx. She has had solo museum exhibitions at the New Orleans Museum of Art (2012), the Hugh Lane, Dublin (2010), the Bronx Museum, New York (2009), the Nevada Museum of Art, Reno (2008), the Villa Merkel, Esslingen (2008), and the Contemporary Art Museum St. Louis (2007). She was recently commissioned to make work for the Storm King Art Center, New York.
Jane Hutton
is a landscape architect and assistant professor in landscape architecture at the Harvard Graduate School of Design. Her work focuses on the externalities of material practice in landscape architecture, looking at links between the landscapes of production and consumption of common construction materials. In 2010, she curated the exhibition, Erratics: A Genealogy of Rock Landscape, looking at the cultural and scientific antecedents of rock-focused landscape architecture projects.Hutton is a founding editor of the journal Scapegoat: Architecture, Landscape, Political Economy, and is co-editor of Issues: 01 Service and 02 Materialism.
Julia Kagan
is a science and health journalist. The former editor of Consumer Reports and Psychology Today, she is writing a book about New York City earthquakes. She is a former Visiting J. Stewart Riley Professor at the Ernie Pyle School of Journalism at Indiana University. A graduate of Bryn Mawr College, she is currently finishing an MFA in creative nonfiction at Bennington Writing Seminars.
Wade Kavanaugh and Stephen B. Nguyen
have collaborated on large scale art installations since 2005. Although they each maintain their individual studio practices, their collaborative artworks have allowed them the freedom to investigate and juxtapose phenomena from the natural and built environments. Their works range from large sculptural objects to warehouse-sized immersive environments that suggest layers of earth, old growth forests, or the flow of a glacier. Their work has been exhibited across the United States, most recently at Mass MoCA in North Adams, MA, Carnegie Mellon University in Pittsburgh, PA, and at the Sun Valley Center for the Arts in Ketchum, Idaho.
Oliver Kellhammer
is a Canadian land artist, permaculture teacher, activist and writer. His botanical interventions and public art projects demonstrate nature's surprising ability to recover from damage. His work facilitates the processes of environmental regeneration by engaging the botanical and socio-political underpinnings of the landscape, taking such forms as small-scale urban eco-forestry, inner city community agriculture and the restoration of eroded railway ravines. His process is essentially anti-monumental - as his interventions integrate into the ecological and cultural communities that form around them, his role as artist becomes increasingly obscured. He describes what he does as a kind of catalytic model-making, which lives on as a vehicle for community empowerment while demonstrating methods of positive engagement with the global environmental crisis.
Elizabeth Kolbert
has been a staff writer at The New Yorker since 1999. Her three-part series on global warming, "The Climate of Man," won the 2006 National Magazine Award for Public Interest, the 2005 American Association for the Advancement of Science Journalism Award, and the 2006 National Academies Communication Award. Kolbert came to the magazine from the New York Times, where she wrote the Metro Matters column and, from 1992 to 1997, was a political and media reporter. Her first book, "The Prophet of Love: And Other Tales of Power and Deceit," was published in 2004. Her second book, "Field Notes from a Catastrophe," (2006), on global warming, is now available in paperback. Kolbert lives in Massachusetts.
William Lamson
is a Brooklyn based artist who works in video, photography, performance and sculpture. His work is in the collections of the Brooklyn Museum, the Dallas Museum of Art, the Museum of Fine Arts in Houston and a number of private collections. Since graduating from the Bard MFA program in 2006, his work has been shown at The Indianapolis Museum of Art, The Brooklyn Museum, P.S.1 MOMA, and the Museum of Fine Arts in Santa Fe, among others. He recently completed two site-specific installations for Storm King Art Center.
Janike Kampevold Larsen
is a postdoctoral fellow at the Oslo School of Architecture and Design. Originally a literary scholar she is part of a research project called Routes, Roads and Landscapes, Aesthetic Practices en route, 1750-2015. She is working on a book called Post National Natures. The Spectacle of the Norwegian Tourist Routes and co-edited Routes, Roads and Landscapes (Ashgate, 2011).
Tim Maly
writes about cyborgs, architects, and our weird broken future at Quiet Babylon. He's the project coordinator of Upper Toronto, a science fiction design proposal to build a new city in the sky and Border Town, an independent design studio about divided cities. He is a co-founder of the Dredge Research Collaborative. He's part of the Wired Design staff and his work has appeared in The Third Coast Atlas, McSweeney's, Icon, The Atlantic, and Volume Magazine. He lives in Toronto.
Geoff Manaugh
is the author of BLDGBLOG, former senior editor of Dwell magazine, and a contributing editor at Wired UK. In addition to regular freelance work for such publications as Volume, Popular Science, The New York Times, and Icon, he also co-directs Studio-X NYC, an off-campus event space and urban futures think tank run by the architecture department at Columbia University. In 2009-2010, with Nicola Twilley, Manaugh organized and curated an independent design studio and exhibition called "Landscapes of Quarantine" at New York's Storefront for Art and Architecture.
Don McKay
is an award-winning Canadian poet, editor, and educator. Born in Owen Sound, Ontario and raised in Cornwall, McKay was educated at the University of Western Ontario and the University of Wales, where he earned his PhD in 1971. He taught creative writing and English for 27 years in universities including the University of Western Ontario and the University of New Brunswick. McKay is the author of twelve books of poetry, including Long Sault (1975), Lependu (1978), and Apparatus (1997). He has twice won the Governor General's Award, for Night Field (1991) and Another Gravity (2000). In June 2007, he won the Griffin Poetry Prize for Strike/Slip (2006).
Rachel E. McRae
lives between Los Angeles and Toronto. She has exhibited in the USA and Canada; at events such as Toronoto's Nuit Blanche, the New York Book Arts Fair and Art Basel Miami Beach; and curated programs with the Inside Out GLBT Film and Video Festival and Pleasure Dome.
Brett Milligan
is the director and author of Free Association Design (F.A.D.) and a founding member of the ExEx research collaborative. He practices landscape architecture in Portland and teaches design courses at the University of Oregon. His work has been exhibited internationally and his writings have appeared in publications such as MONU, Bracket, and The Journal of Landscape Architecture. His current research on the infrastructure of the Klamath River Basin is funded by a grant from the Graham Foundation.
Christian MilNeil
is a freelance writer, programmer, and author of Vigorous North. He lives in Portland, Maine.
Laura Moriarty
is a painter, sculptor and printmaker whose works explore geologic time. Laura's work is exhibited widely, and she has participated in many guest lectures and residencies nationally and internationally, including the Ucross Foundation, Women's Studio Workshop, the Frans Masereel Center in Belgium, and the University of Virginia, Charlottesville. Her honors include two Pollock-Krasner Foundation Grants, along with grants from the New York Foundation for the Arts and the Crafts Alliance of New York State.
Erika Osborne
is an artist and professor at West Virginia University. Her nationally exhibited work uses various media to address cultural connections to the environment. Erika's creative interests have crossed over into her teaching practice, driving her to develop two field-based courses for artists, Place: Appalachia and Art and Environment.
Trevor Paglen's
work rejects the formal and disciplinary boundaries between art, social science, journalism, and other forms of intellectual and cultural production. He became an artist at age six, studied Religious Studies and Music Composition as an undergraduate at U.C. Berkeley, earned an M.F.A. from the School of the Art Institute of Chicago, and went on to complete a PhD in human geography from U.C. Berkeley. He lives and works in New York City.
Anne Reeve
received her MA in the History of Art from University College London. She currently serves as Curatorial Research Assistant at Glenstone, where she produces filmed Oral History interviews for the Institution's research archive. Her writing has appeared in Art in America Magazine.
Chris Rose
is a designer and researcher in knowledge building in the field of Design. He currently teaches in Furniture Design and in Graduate Studies at RISD. He has taught and organized specialized seminars in design thinking, creative process and materials in Finland, India, Italy, France, Holland, UK and USA. He is a contributor to the Engineering Social Justice and Peace (ESJP) network, and to a number of research publications including the Victoria and Albert Museum and the University of Brighton, UK. He is currently an Arts-Science collaborator at RISD under an NSF research program.
Victoria Sambunaris
received her MFA from Yale University in 1999. Each year, she structures her life around a photographic journey crossing the American landscape. Her most recent project has been following the US/Mexican border photographing the intersection of geology, politics and culture along the volatile international boundary.
Paul Lloyd Sargent
is multidisciplinary artist currently in the PhD program in the Department of Media Study at the University at Buffalo. His research investigates the legacies of the supply and disposal chains, primarily focused on the impact of the international shipping industry on ecologies, economies, and communities connected by the Great Lakes and St. Lawrence River.
Rachel Sussman
is an artist and photographer based in Brooklyn. Her critically acclaimed project The Oldest Living Things in the World spans disciplines, continents and millenia. Starting at "year zero" and looking back from there, Sussman is creating an original index of continuously living organisms 2000 years old and older. She's spoken at TED, The Long Now Foundation, CNN and the BBC, and has received numerous awards and international press. Her work has been exhibited in museums and galleries in Europe and across the US.
Shimpei Takeda
was born in Fukushima, Japan. He is Brooklyn-based artist working with photographic materials. He primarily focuses on cameraless photographic techniques to capture otherwise unseen interactions of materials and light. As the Fukushima Daiichi nuclear disaster occurred close to where his family resides, within 40 miles, Takeda began working on an on-going project, "Trace - cameraless records of radioactive contamination".
Chris Taylor
is an architect, educator, and director of Land Arts of the American West at Texas Tech University where he teaches in the College of Architecture. Since 2001 he has been developing Land Arts as a semester abroad in our own backyard that investigates the intersection of geomorphology and human construction. The books Land Arts of the American West and Incubo Atacama Lab document his field based investigations of multivalent landscapes. Taylor is a graduate of the Universityof Florida, the Graduate School of Design at Harvard, and recipient of the Steedman Fellowship from Washington University in St. Louis.
Ryan Thompson
is based in Chicago, IL where he is an Assistant Professor of Art and Design at Trinity Christian College. His ongoing 'Department of Natural History' projects engage the complex and often strange relationships humans produce in collaboration with natural phenomenon.
Etienne Turpin
teaches architecture theory and design research at the Taubman College of Architecture & Urban Planning, University of Michigan. In collaboration with Meredith Miller, he is principal investigator for the research initiative Architecture + Adaptation: Designing for Hypercomplexity, which analyses and provokes the agency of architecture in relation to extreme conditions of the Anthropocene. Etienne is a founding editor of the architecture, landscape, and political economy journal Scapegoat and the editor of Architecture in the Anthropocene: Repositioning Design Research (MAP Books Publishers).
Nicola Twilley
is the author of Edible Geography, cofounder of the "Foodprint Project" with Sarah Rich, former Food Editor of GOOD magazine, and co-director of Studio-X NYC. Nicola is also curator of a forthcoming exhibition at the Center for Land Use Interpretation in Los Angeles exploring North America's spaces of artificial refrigeration; she is working on a book on the same topic. In June 2012, Future Plural—a curatorial and publishing initiative run with Geoff Manaugh—launched Venue, a pop-up interview studio and mobile media rig traveling around North America through September 30, 2013.
Bryan M. Wilson
is a visual artist investigating themes of time, identity, and the body through a variety of craft and art disciplines. Nationally and internationally exhibited, his work takes the forms of objects, video, installation and image. He currently lives and works in New York City.