Autobiographical Trace Fossils
Ilana Halperin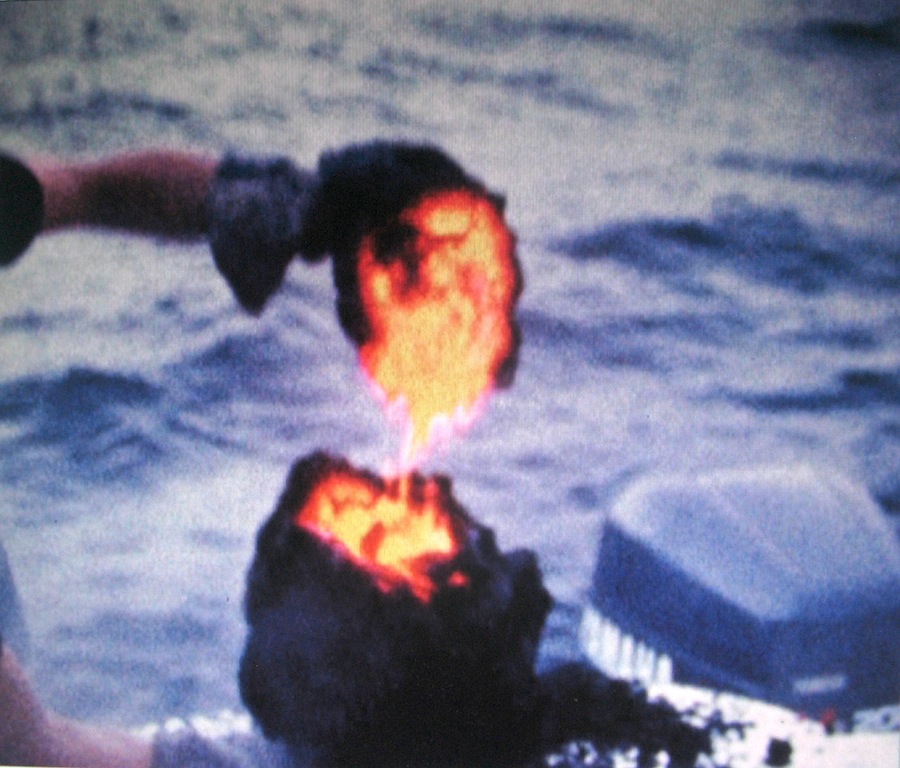 Physical Geology (A Geological Time Diptych)
Ephemeral islands, petrified raindrops, volcanic dust from Pompeii, a shared birthday with a volcano. Certain geological processes have a way of evoking a more personal response to the idea of geological time. What does a time span of 300,000,000 years actually mean? Physical Geology is an ongoing project which explores our desire to make corporeal contact with geological phenomena.
While conducting research as an Alchemy Fellow at the Manchester Museum, in the "oddities drawer" of the geology department I came across a fine collection of lava medallions from Mount Vesuvius, magma pressed between forged steel plates to form an imprint (imagine a waffle iron that uses lava as batter). In the same drawer, a small stone relief sculpture appeared to be carved out of pure white alabaster. In fact, it was a limestone cast created via the same process that forms stalactites in a cave.
In re-visiting these historical geological art processes (lava forging and cave casting), I began to develop ideas for "physical geological art works," art objects formed within a geological, or deep time, context. I went to Saint Nectaire, a small thermal town in the mountains of the Auvergne in France to meet with Eric Papon, whose family founded the Fontaines Petrifiantes, and the art of cave casting, seven generations ago. In a normal limestone cave it takes one hundred years for a stalactite to grow one centimeter, while in the caves of the Fontaines Petrifiantes one centimeter grows in one year. Every year Eric and his assistant facilitate the formation of hundreds of cave casts through a labor-intensive process involving twenty-five meter high casting ladders, carbonate waterfalls and natural rubber moulds which slowly fill with limestone deposits over the course of a year. In 2008 we began to work together in the caves.
The cave cast can be likened to a drawing, a record of incremental change. It is a cousin of the long exposure found in pinhole photography; the gradual accumulation. Though a cave cast serves as a stand-in for deep time, twelve months are not massive in a geological time context, in daily life a lot can happen in a year. Within an arts context, a year is also quite a long duration, a continually occurring process forming a piece of work.
The plan is to make a geological time diptych, new lava medallions, new cave casts, slow time and fast time alongside each other. To date, I have made a new series of cave casts which formed over the course of ten months in the calcifying springs of the Fontaines Petrifiantes. The last casts were cracked open to coincide with my 36th birthday in September 2009. The slow time component of the project is now complete.
Ancient and technologically advanced modes of production were employed to arrive at these unique objects of pure geology; including traditional copper plate etching, virtual modelling, rapid prototyping and limestone encrustation.
In a volcanic prologue to the fast time component, I spent time encountering active lava flows as they formed new land on Big Island, Hawaii. To complete the project, lava-stamping implements are ready and waiting for a molten river to emerge from another volcano, Etna, where the art of lava forging surfaced. To carry out this action, volcanologists have agreed to work together at the edge of the next flow. This may occur in one moment or within a lifetime.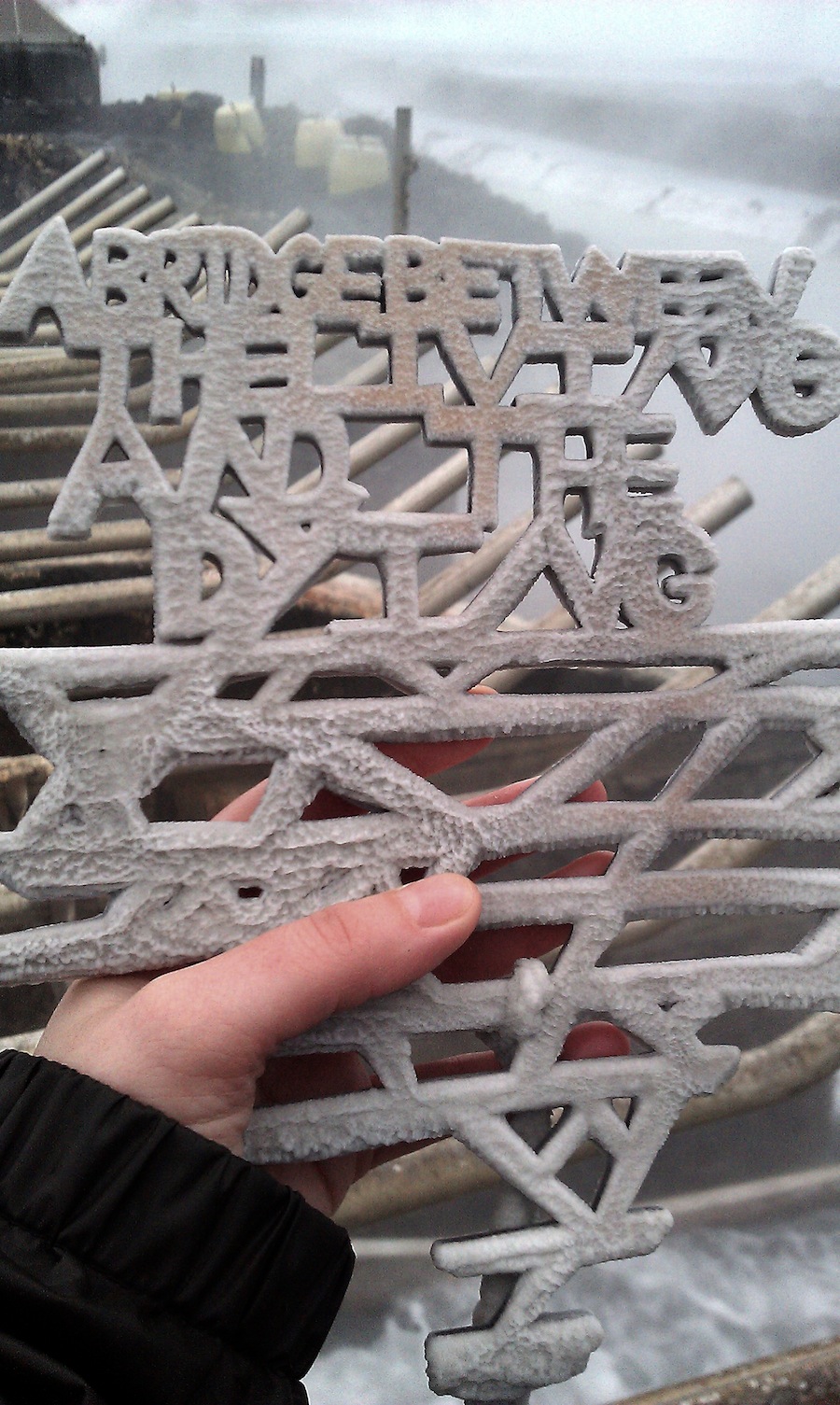 back to top ↑
Physical Geology, Geological Intimacy
Within my work, drawing parallels between very personal events, for example when I was born or when my father died with the birth of a volcano, allows for a space to think about our place within the geological time continuum from a more intimate perspective. The next stage of Physical Geology extends these links into new geological terrain.
One evening in Edinburgh, someone approached me and said, I have been thinking about your work lately, I came across something that I think you might be very interested in, it's a collection of body stones. Body stones? Body stones, gall stones, kidney stones, they are all made of geology. Out of this conversation grew a totally unexpected line of enquiry within my work, the idea that we as humans are also geological agents, we form geology. We are like volcanoes, producing a new landmass on a micro scale. We are closer relations to Eyjafjallajokull than previously thought. The boundary between the biological and geological can begin to blur. Physical Geology (geologic intimacy) is as an exploration of new landmass of a cultural, biological and geological nature, from petrifying caves in France and geothermal pools in Iceland to a collection of body stones more animal than mineral, or perhaps somewhere in between.
I have spent time with two collections of body stones, both in Berlin. One is a historical collection of stones from the 1700s, excavated by Johann Gottlieb Walter and Friedrich August Walter, a father and son team of body mineralogists. The second collection is contemporary and belongs to Navena Widulin, the medical museum preparateur. Encountering Navena's collection on display in her laboratory, you would think you were looking at shelves of precious gems and minerals. She began her collection of body stones in the mid-1990s. Now surgeons and pathologists throughout Germany send her stones in the post whenever they extract one from someone living or dead. In the body, each stone is a biological entity, and once out of the body it belongs to the realm of geology.
I had a memory of seeing a cross section of an old pipe in the geology collection of the Hunterian Museum in Glasgow. It's a thick pipe, about a foot in diameter, though you can hardly see through it as a thick geothermal mineral deposit formed inside, like the start of a clogged geological artery.
Building on earlier investigations into the formation of culturally occurring landmass, I could not kick thinking about that pipe. In February 2011, I began working with the Blue Lagoon in Iceland to generate a new series of silica and mineral sculptures which form in geothermal pools. Working alongside Hannes Johannson, the foreman of the Blue Lagoon, we created a new series of geothermally occurring sculptures in the runoff pool from the geothermal power plant, which feeds the Blue Lagoon. The sculptures formed over a period of 2.5 weeks time. They are composed of laser-cut plywood stencils submerged in geothermal pools to naturally encrust in pure silica over the period of formation.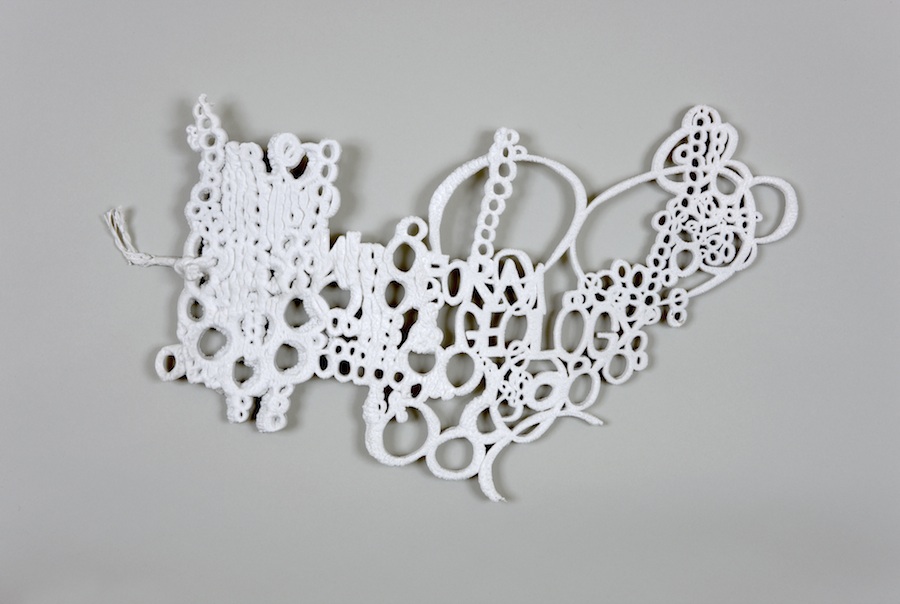 back to top ↑
February 2011. Geothermal Diary. Grindavik, Iceland
Every day, I wake up in the pitch-black night, but it is morning. I go to the industrial waterfall with Hannes. We are surrounded by steam and silver silos. An active geothermal power plant fed by an underground geothermal sea. We are inland. We check our work. How much have you grown today? One line is reeled in, the skeleton is almost encrusted. We turn a second, like basting a roast for Shabbat dinner; one side, flip, then flip again. We climb the scree black lava slope, past red rust and copper green to the upper level of the waterfall. A green rope dangles down into the mist disappearing as if into a well or a cavern. Two ribs over, one line attached to corporeal mineralogy, one to autobiographical trace fossils. Each one in a new grey skin, like a young rhinoceros or an armadillo, almost translucent, but there is no question this worm skin will become strong and solid. We are in the high temperature pools here, 80 degrees Celsius, where we learned everything forms just as you hope.
To get to our morning check, we march through crisp new snow, crystalline, sparkling over pipes filled with boiling water, well insulated, plastic. You would never guess from above what courses through the pipeline underfoot. Hot heat that would melt snowfall or skin. We cross lava rock covered in ice, uneven surface. Hannes says you must already have chosen your next step as you take your first. Confidence over surfaces so as not to fall, falter, fear anything broken or cracked on a rock. We cross the clear warm rainforest dew of the power plant, melting away any last trace of ice or snow. Past the cooling tower, not a tower so much as a massive box with water running over, top to bottom, like a perpetually overflowing bathtub. So much energy is generated here it powers the entire region. (Hard now to picture this, so similar in look to Fukushima, though an entirely different animal.) Eventually, we come to the waterfall, strewn with bones of silica coral, and channels like woven reed baskets encased in calcium.
This is what we do. We form geology. We check each piece, turn it. I can't think of a time when I have been able to watch something with such attention. Memorise the details, compare them the next day, the day after that. Watch the sunset roll in, like clockwork tides that shift each day. A small slice of light added onto to the hours of February winter dark. When I arrived, five hours of day and twilight, now six and counting.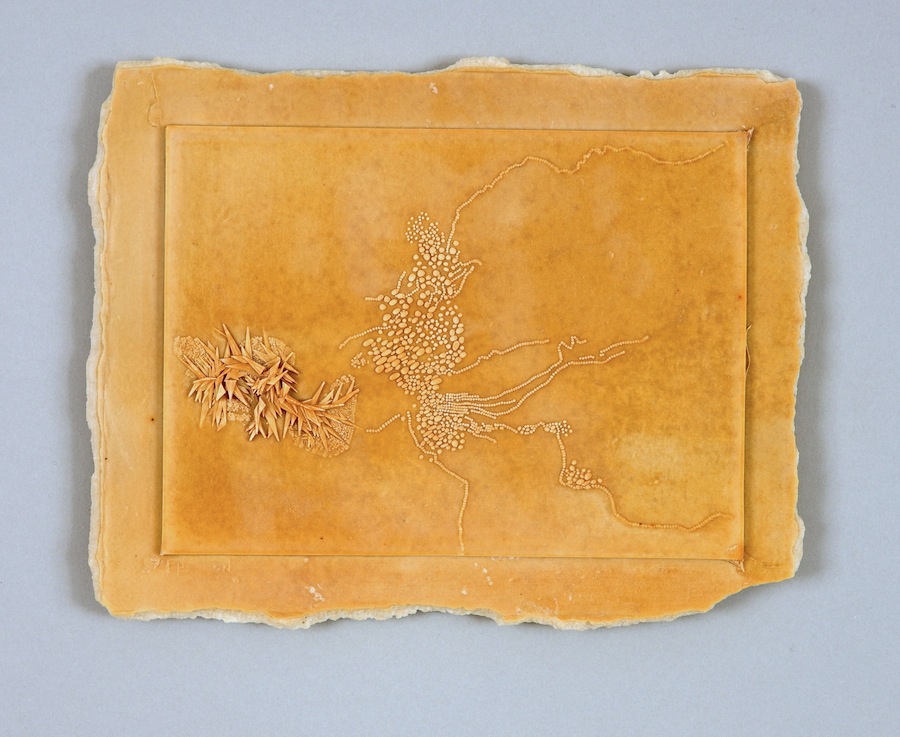 back to top ↑
Endnotes
The Allende meteorite is the oldest known object on earth, older then the earth itself. I spoke with a paleontologist who told me a fossil is the presentation of the moment of death. However trace fossils record an action, eating or walking, but not the organism itself.
What is the correlation between a volcanic island, a cave cast and a body stone? Metamorphic rock comes from the Greek to "change form." On top of a mountain, I found fossils from the ocean floor. In the early days of exploration, new landmass was named: New Amsterdam, Heilprin Land, Ferdinandea. How do we locate a body stone on the map? Should we mark the birth and death of an island? A cave cast is a free-floating landmass that can be passed from one person to another. A body stone, a miniature planet travelling through an interior universe. The geological record may need to be re-assembled.
We are autobiographical trace fossils.
back to top ↑